Top: Home Page
Up: Table of Contents
Previous:
Next:
---
NONSTANDARDIZATION OF
SHARE-THE-ROAD
SIGNS AND MARKINGS
IN MASSACHUSETTS
Originality and diversity are not virtues in road signage, where the need is to get the message across simply and quickly.

Every one of the share-the-road installations shown below is different, though each is intended to indicate that motorists should act with courtesy toward bicyclists. Above and beyond the issue of standardization, however, there is debate among bicycling advocates and standards-setting bodies about the appropriateness of share-the-road signs and markings. Some can easily be misinterpreted as meaning that bicyclists should get out of the way of motorists. Others are merely confusing.

Some of the signs shown below are white, others yellow and one is green.

Regulatory signs, colored in white, are intended to indicate laws that apply at the location of a sign. For example, speed limit signs are regulatory signs, and so they are white. Warning signs indicate special, hazardous situations and are yellow. Bike route signs are guide signs, and are green.

A white "share-the-road" sign suggests that a law requires sharing the road. In fact, it does, though not only at the location of the sign.

A yellow "share-the-road" sign suggests that bicyclists represent a special, unusual hazard at the location of the sign. In fact, bicyclists are a normal component of traffic on most roads, and placing signs suggesting that they are a special hazard in certain places may undermine awareness of that fact.

A green "share-the-road" sign suggests that only the bicyclists need follow its advice.

The shared-lane marking, shown in some of the photos below, has been advanced as suitable in narrow lanes which bicyclists and motorists must share head-to-tail, but is only now (January 2007) on its way to formal approval on the national level in the USA.
---
Route 225, Westford. Green signs indicate a bike route
and are meant to be read by bicyclists. Who, then is
supposed to give way in order to share? Photo taken 2005.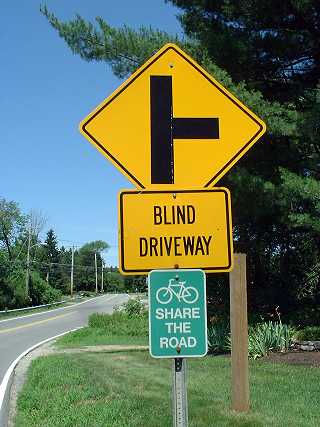 ---
Concord. The town's heart is in the right place but the
non-contrasting colors are hard to see, and
the relative positions of car, bicycle and pedestrian.
aren't clearly defined. Photo taken 2002.
The same type of sign also is used in Wakefield.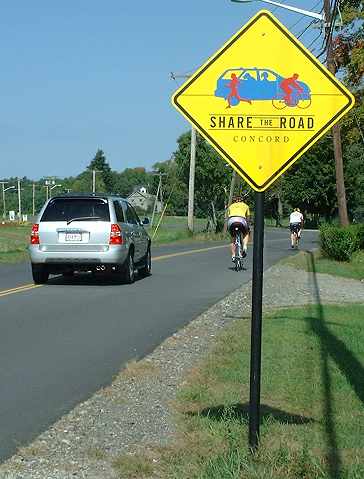 ---
Route 6A, Truro, on the Boston-to-Cape route. Photo taken 2001.
This sign conveys a clear graphic message.
That message does contradict the intention of the double
yellow line, though motorists regularly merge somewhat
across such lines to overtake bicyclists.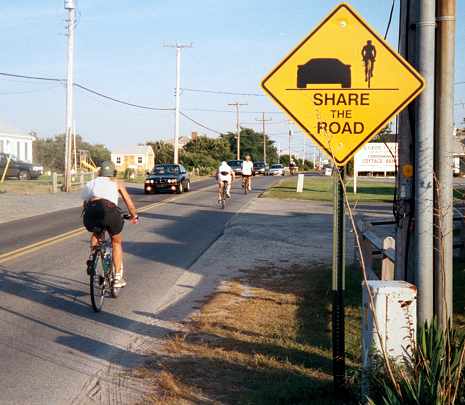 ---
Another Cape Cod town, Orleans, posts an illegal or at best
confusing "don't share the road" sign on Main Street. There
is no law forcing bicyclists off the road onto sidewalks.
Cities and towns may, however, require bicyclists who
are on sidewalks in business districts to walk
their bicycles. Neither case applies in this residential block
of Main Street. Photo taken September 12, 2004.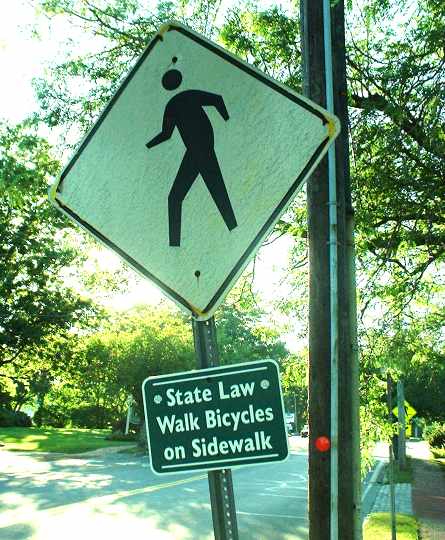 ---
Concord Ave., Belmont, looking toward Cambridge. What does the share-the-road
text suggest when combined with the strange bike-lane marking that directs
bicyclists to the right side of right-turning motor traffic? Photo taken 2002.
More about Concord Avenue, Belmont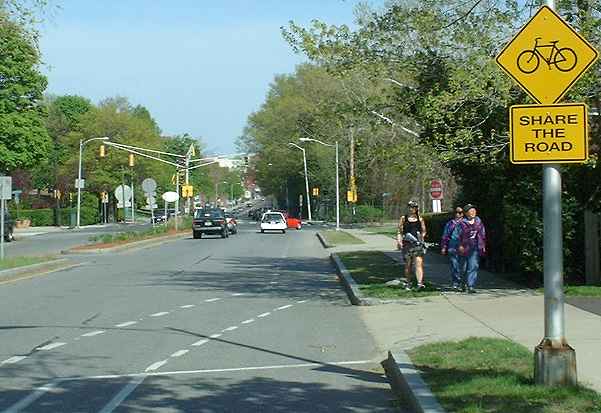 ---
Arsenal Street. Watertown. The sign is like the one in Belmont
except for the different typeface. But it borders a sidepath. It
also borders street markings that are identified as
a bike lane only in the sidepath signage. Confusing enough....?!
More about the Watertown sidepath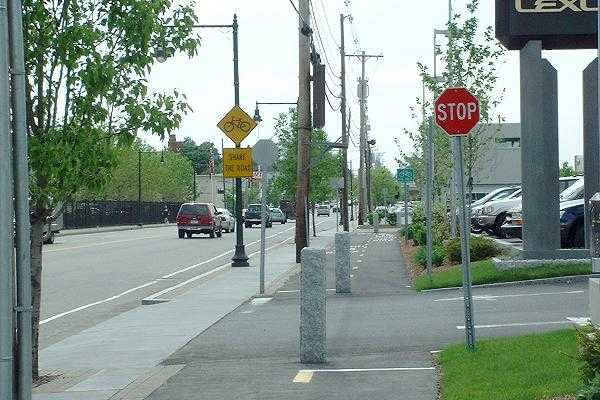 ---
Stepping Stone Road, Chatham, with a sidepath that
serves as an extension to the Chatham branch of the
Cape Cod Rail Trail. Here, a white regulatory message
is combined with a yellow warning of the presence of
bicyclists -- at the edge of the sidepath rather than the road.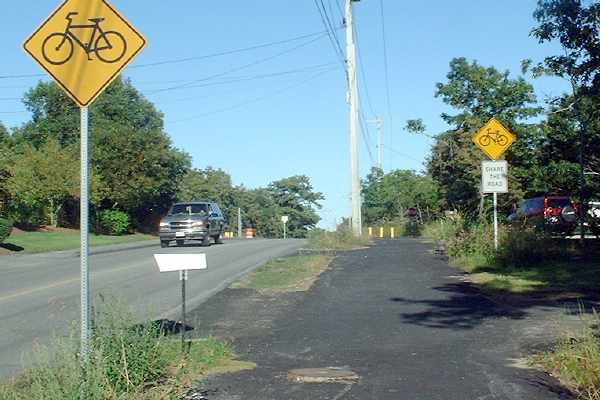 ---
Share-the-road-with-pedestrians sign, Natick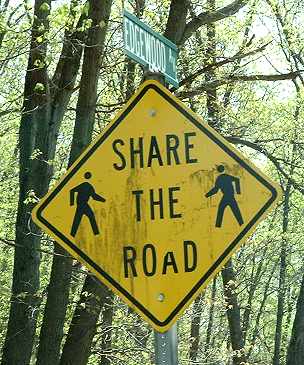 ---
Share the road with equestrians sign from a
Massachusetts government report.
Location unknown.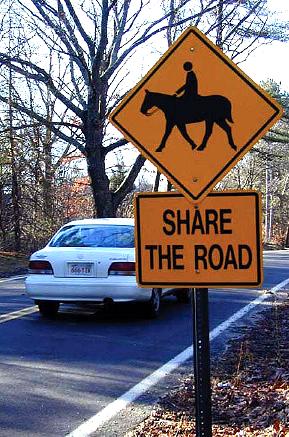 ---
Sign proposed by former Boston Bicycle Coordinator
Paul Schimek but not implemented. This sign
is intended to indicate that bicycles and
motor vehicles share the same line of travel.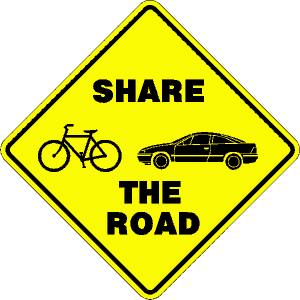 ---
A shared-lane marking as recently shown effective in
San Francisco. It indicates a bicycle line of travel when
a lane must be shared head-to-tail with motor vehicles.
Correctly implemented on Massachusetts Avenue,
in Porter Square, Cambridge. Photo by Tom Fine.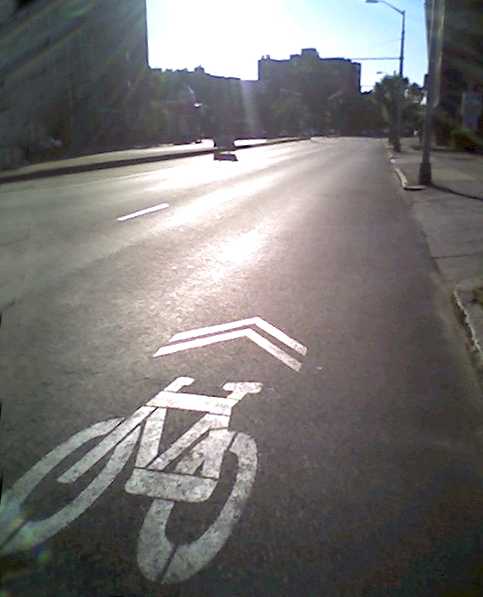 ---
The shared-lane marking makes sense when painted on the road,
but when it is used on a sign, its message is only symbolic -- not
graphic. Also on Massachusetts Avenue, Cambridge, near
Porter Square. Thanks to Tom Fine for this photo too.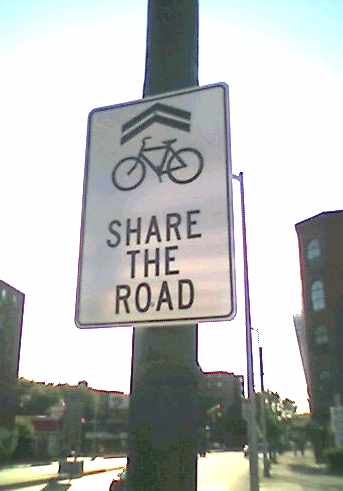 ---
East Street, Carlisle: The "bike in house", or "sharrow", an
obsolete version of the shared-lane marking, is used
improperly here as a bike-lane marking.
The shared-lane marking, as its name indicates,
is intended to be used only in a lane
shared by bicyclists and motor traffic.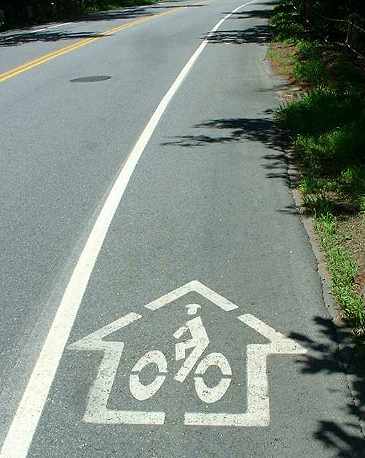 About a quarter-mile farther along the roadway is
the pedestrian marking below. Use of such a marking on a
shoulder or bike lane is unusual. As pedestrians are
required by law to walk facing traffic, the marking is
facing the wrong way. Photo by Tom Fortmann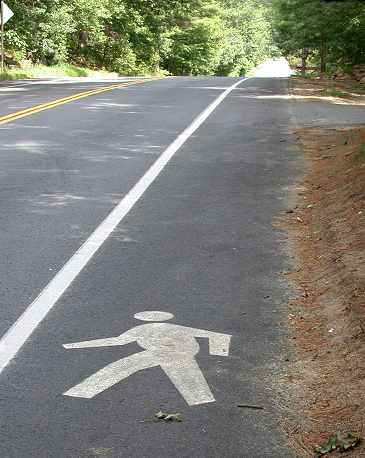 ---
---